Turbo The Chihuahuah Gets New Wheels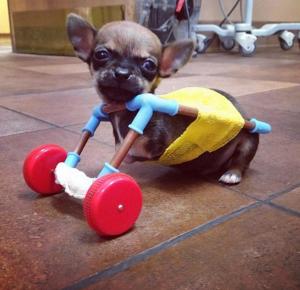 Turbo, a Chihuahua from Indianapolis, Indiana, is making headlines and winning hearts all around the world.
Born without his two front legs, Turbo is now rolling along quite happily thanks to a team of resourceful veterinarians and a bunch of spare parts from a toy welding kit!
This is a temporary, albeit very creative, solution. Awesome as it is, however, moving with these wheels puts stress on Turbo's back legs. When he's about 6 months old, he can get fitted for a cart that can help him balance his weight properly and move more easily.
Keep going, Turbo! We're rooting for you!
Sources:
CNN: http://www.hlntv.com/slideshow/2014/07/23/turbo-roo-dog-chihuahua-front-legs-disabled-cart?hpt=hln10_4&hpt=hp_t4
The Indy Channel: http://www.theindychannel.com/news/good-news/tiny-disabled-dog-uses-cart-made-from-toy-parts
Huffington Post: http://www.huffingtonpost.com/2014/07/25/chihuahua-wheelchair-toys_n_5619106.html
Image Credit: http://www.nydailynews.com