Service Dogs Helping Veterans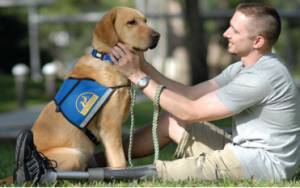 Canine Companions for Independence (CCI) is doing some great things we can feel good about!
Founded in 1975, it is the largest non-profit provider of assistance dogs in the United States.  They provide training and follow-up services for free.  FREE, we said.
And now they've partnered with PetSmart to create the Canine Companions Wounded Veterans Initiative, aka, PetSmart for Patriots.
Check out this inspiring CNN video showcasing the good work CCI is doing to help these brave men and women: http://www.cnn.com/video/data/2.0/video/bestoftv/2014/02/14/lead-dnt-tapper-canine-companions-wounded-warriors.cnn.html
Sources:
CNN:  http://www.cnn.com/video/data/2.0/video/bestoftv/2014/02/14/lead-dnt-tapper-canine-companions-wounded-warriors.cnn.html
Canine Companions for Independence:  http://www.cci.org/site/c.cdKGIRNqEmG/b.3978475/k.3F1C/Canine_Companions_for_Independence.htm
CCI PetSmart Announcement:  http://www.cci.org/site/apps/nlnet/content2.aspx?c=cdKGIRNqEmG&b=4127877&ct=13664841
Image Credit: http://www.vapresspass.com