Pets As Carry On Luggage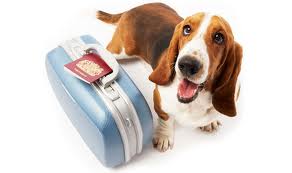 If you're traveling with your teacup poodle or baby kitten, you can probably bring him in the cabin with you on your flight.  However, there are some important considerations to keep in mind:
You must advise the airline as soon as possible ahead of time.  Some have a limit as to how many animals can be in the cabin during flight time.
Different airlines have different restrictions depending on animal size and weight; where the animal is traveling to and from; and if the animal is traveling with you for business or pleasure (i.e., for a dog show vs. a leisure family vacation).
The weight limit for your pet will include the weight of the carrier he's in.
Try preparing your pet ahead of time for the trip by acclimating him to the carrier.  He must remain inside the carrier under the seat in front of you for the duration of the flight. However our experience has been you can often take them out if no one objects.
There may be a fee of about $100 – $125 per animal.
Ask if the airline can recommend less crowded flights for the particular route you're traveling on.
Be mindful of other passengers and keep your pet as well-groomed as possible. Other passengers may be allergic to dog or cat hair.
As always, you need a certificate of good health from your veterinarian.
For a helpful quick link to many major airline pet policies, try BringFido.com:  http://www.bringfido.com/travel/.
Sources:
HealthyPet.com:  http://www.healthypet.com/PetCare/PetCareArticle.aspx?title=Traveling_By_Air_With_Your_Pet
BringFido.com:  http://www.bringfido.com/travel/.
AnimalPlanet.com:  http://animal.discovery.com/pets/5-tips-for-taking-small-dogs-on-planes.htm
Animal Land Pet Movers – Blog – Arianna Licet Ariza