Pet Relocation to Switzerland
An Overview of the Requirements for Pet Relocation to Switzerland
Imagine your dog bounding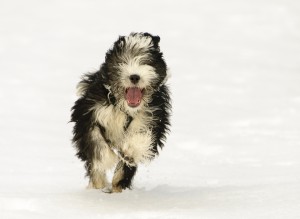 g through the snow with the majestic Alps as the backdrop?  This beautiful scenario can be yours if you're moving to Switzerland.
Below are the requirements for moving from the United States with your pet. Exceptions can be made but please note that if your pet does not meet the requirements upon entry, he or she will be exported back to the country of origin.
For Dog Owners
Dogs with trimmed ears or tails are prohibited. The only exceptions are for holiday stays or relocation to Switzerland. If you have a pet that has trimmed ears or tails, one of our personal move counselors will be able to guide you through the necessary paperwork to have them approved for travel.
Microchip
Your pet must be implanted with a 11784 or 11785 ISO-compliant microchip or have an identifying tattoo.
Rabies Vaccination
The pet must show proof of a current rabies vaccination with the ISO-compliant microchip documented on the original certificate.  The vaccination must be administered on the same day as – or after – the microchip is implanted. This is very important.  If your rabies vaccination is given prior to the microchip being implanted, you will be required to re-vaccinate following the implantation of the ISO-compliant microchip.
If the vaccination is considered the pet's 'primary' vaccination, they will be required to wait 21 days prior to travel.
Veterinary Health Certificate
A veterinary health certificate should be issued within 10 days of travel by a USDA accredited veterinarian.  The health certificate should then be endorsed by the USDA office located in the state the certificate was completed.  To help avoid delay in your pet's travel plans, our personal move counselors can personally assist you and your veterinarian to ensure that all of the proper documentation and paperwork is completed correctly prior to the USDA endorsement.
Sources:
Swiss Government Federal Food Safety and Veterinary Office (FSVO): http://www.ezv.admin.ch/zollinfo_privat/04406/04410/index.html?lang=en
Image Credit: http://www.freeimages.com/browse.phtml?f=download&id=1438855