Dubai's First Pet Hotel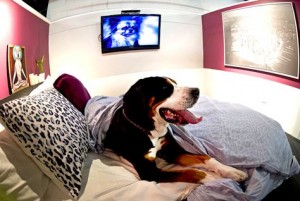 Are you moving to Dubai with your cat or dog this year and need a place to stay until your residence is available?  Or maybe you need to know of a place where they can stay if you need to travel?  You're in luck because Dubai's first pet hotel is about to open!
Scheduled to open in March 2014 in the Al Warsan area of Dubai, the property encompasses 835 square meters (that's almost 9,000 square feet!) and can accommodate up to 50 cats and dogs at a time.
The facility will offer grooming, playgrounds, laundry services and even therapy sessions.  The staff will include veterinarians to take care of any medical needs.
It will also be home to the Dubai Municipality's Birds and Pets Market.
Sources:
Arabian Business:  http://www.arabianbusiness.com/dubai-s-first-pet-hotel-open-in-march-531699.html#.UtR_l8aA1dg
Emirates 24/7:  http://www.emirates247.com/lifestyle/dubai-s-pets-hotel-for-four-legged-guests-to-open-in-march-2014-2013-12-19-1.531878
Image Credit:  http://www.arabianbusiness.com/dubai-s-first-pet-hotel-open-in-march-531699.html#.UtR_l8aA1dg