Dog Licenses in Singapore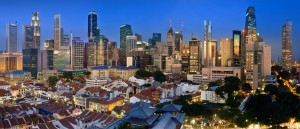 If your dog is at least 3 months old, you must apply for a pet license.
There are certain conditions you must adhere to:
You are allowed a maximum of 3 dogs.
You may not have more than one dog of an approved breed if you live in a Housing Development Board (HDB) residence.
There are extra conditions for the following breeds:  Bull Terrier, Doberman Pinscher, Rottweiler, German Shepherd Dog with its related breeds such as the Belgian Shepherd Dog and the East European Shepherd Dog, Mastiffs including the Bull Mastiff, Cane Corso and Dogue De Bordeaux, and crosses between them and any other breeds.  These include:
Only one dog from the above breeds is permitted on private premises.
The dog must be on leash and muzzled when in public.
Owners must take out an insurance policy for at least $100,000 and a banker's guarantee for $2,000.
You can apply online HERE:
Sources: 
Singapore Agri-Food and Veterinary Authority (AVA):  http://www.ava.gov.sg/NR/rdonlyres/A6301E5F-8CE5-4ED4-A447-A2C3EF6216D6/26500/VeterinaryConditionsCategoryB19July2013.pdf
AVA Dog Licenses:  http://www.ava.gov.sg/AVA/Templates/AVA-GenericContentTemplate.aspx?NRMODE=Published&NRNODEGUID=%7b2FCF9F87-1FB1-49C8-A804-0611C26E95FA%7d&NRORIGINALURL=%2fAnimalsPetSector%2fSalesOfPetsOwnershipExhib%2fDogLicensing%2f&NRCACHEHINT=Guest#applying|
Housing Board Website:  http://www.hdb.gov.sg/fi10/fi10326p.nsf/w/PetBreedsAllowed