Best Friends Animal Sanctuary – A Special Place
Located on over 30,000 acres the beautiful western landscape of Kanab, Utah, the Best Friends Animal Sanctuary is truly a special place for animals that need love, medical care and rehabilitation.  They took in most of the dogs saved from the Michael Vick farm back in 2007.
Four million homeless pets are killed each year – and Best Friends estimates that 90% are actually adoptable.  That's why they are on a mission to save, heal and rehabilitate as many animals as they can through their No Kill Policy.
There are also programs in New York and Los Angeles.  You can adopt a pet, donate financial contributions or volunteer at the Sanctuary.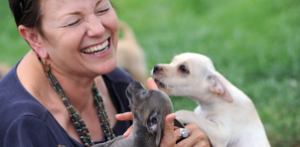 Fun facts about Best Friends include:
Clinic:
Patients per year: 15,000
Surgeries: 3,894 (Includes spay/neuter and misc surgeries)
Total spay/neuter surgeries as of May 2007: 13,000+ and counting
Cat World:
Cat World uses about 700 pounds of litter per day!
The oldest cat ever adopted was Antoinette. She more than 21 years old and FIV+!
In 2011, we averaged 576 cats at the Sanctuary (monthly average)
Dogtown:
2,377 pounds of food per week (average)
In 2011, we averaged 432 dogs at the Sanctuary (monthly average)
Between 87 and 122 loads of laundry are done every day in Dogtown
Bunny House & Rescue Village Rabbits:
Per day: 60 cups of pellets & 250 cups of greens per day
Per year: 21,900 cups of rabbit pellets 91,250 cups of greens
In 2012, we averaged 250 bunnies at The Sanctuary
Horse Haven (Horses and Pigs):
Average population per month: 39 horses, 2 mules, 1 donkey, 2 sheep, 7 goats.
Our pigs go through two boxes of Romaine lettuce each day. Each pig gets 2 salads a day.
Parrot Garden (Birds):
6000 pounds of pellets per year
$2000 worth of fresh and frozen vegetables
In 2011, we averaged 89 birds at the Sanctuary (monthly average)
Sources:
BestFriends.org Website:  http://www.bestfriends.org
Best Friends Behind the Scenes Page:  http://www.bestfriends.org/Behind-the-Scenes/
Best Friends No Kill Mission Page:  http://www.bestfriends.org/Our-No-Kill-Mission/The-Problem/