Why Use A Pet Moving Service?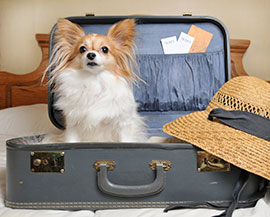 Relocation is a logistical and emotional challenge.  There are many factors to consider once you've decided to move from one place to another including how to move your pets.
Transporting furniture is one thing but getting a beloved pet safely from Point A to Point B involves human emotions that a chair doesn't usually evoke.  The process can be confusing and stressful.  Airline rules and international specifications in particular are subject to change.  You can certainly coordinate the move on your own but why not use an expert to help you navigate the steps and take a major concern off of your plate? This is especially true with international relocations where knowledge of import requirements and quarantine procedures can save you months of heartache.
At Animal Land Pet Movers, we are pet owners ourselves and we treat your pets as if they were our own.  A Personal Move Counselor well-versed in pet travel arrangements is assigned to you and will walk you through every step of the process – from finding the right flights and permits to coordinating vaccinations and paperwork with your veterinarian.  He or she can address your concerns regarding everything from crate sizes to kenneling to "what happens if Fifi has to change planes?" Your Counselor is reachable 24/7 because we know you may have last-minute questions or changes in your plans.
Any pet relocation service worth its weight in Golden Retrievers should offer convenience, expertise and stress relief.  All you need to know is that your furry – or perhaps scaly – friend is traveling safely and will see you soon.