Update on Anthony!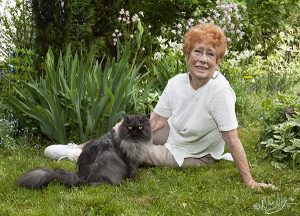 We first reported on Anthony 3 years ago! We now have an update on him and Shirley Bailey, the amazing woman who came to Augusta, GA from Canada and left with Anthony!
Update on rescue cat and one of our favorite clients, "Anthony".
Anthony lived out his early years around a hotel in Augusta GA.  This was no life for such a  special boy so when cat enthusiast, Shirley, spotted him two years in a row outside her hotel room (while visiting the Masters), she knew she had to take action!  Shirley hired Animal Land to bring Anthony from his humble beginnings to her home in Canada! 
With a little help from hotel staff in catching Anthony, his transport went very smoothly and he began to adjust (and enjoy) his new life right away! Shirley has been so good to keep us informed on Anthony's progress and we feel very honored to have been a part of his rescue.  However, this is not where the story ends!  Three years after his rescue, Anthony is giving back to his community. 
Anthony is now working as a therapy cat, providing love, companionship and even entertainment to elderly patients.  We are told that Anthony enjoys his work as much as his new friends enjoy him!  Anthony and Shirley, we applaud you and the good work you're doing!   This rescue truly has a happy ending for all!