Pet Travel Safety Numbers
According to a recent report by Air Cargo World, transporting pets by air is still extremely common – and extremely safe.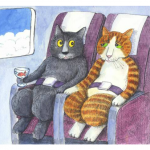 The report, based on information from the United States Department of Transportation and interviews with U.S. airlines, states that less than 0.01% of pets that fly experience any kind of incident.
Factors contributing to issues were usually the pet's age and health status before the start of the trip.  Some injuries reported were kennel-related.  Pets may have chewed through their kennels and hurt themselves or escaped.
Hundreds of thousands of pets fly the friendly skies every year.  United Airlines transports more than 110,000 pets per year.  Alaska Airlines flies more than 80,000 pets per year.  Lufthansa, which has multiple transport centers for animals, carries 110 million live animals per year, though only 15,000 are pets.  United Airlines has one of the best animal transport programs in the world, with a dedicated Pet Safe desk open 24 hours a day.
Airline staff that handle pets must take a course to learn the International Air Transport Association (IATA) Live Animal Regulations.  Many airlines also require their employees to receive other specialized training in pet transportation.
To help insure the safest flight experience possible for your pet:
Book direct flights whenever possible
Know the requirements for the country or region you are flying to
Make sure your pet is healthy and ready for the flight
Use a sturdy travel kennel that meets IATA size standards and acclimate your pet to it ahead of time
Sources:
Air Cargo World:  http://www.aircargoworld.com/Air-Cargo-News/2013/08/few-pets-experience-trouble-on-airlines/0514792
IATA:  http://www.iata.org/publications/pages/live-animals.aspx
Image Credit:  http://www.fanrisparmio.com