Pet Relocation to Brazil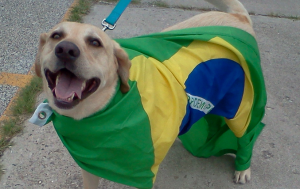 Taking pets to Brazil from the United States (i.e., a country with a low incidence of rabies) is not too complicated but does take time. Plan well in advance in order to allow for forms to be received and processed.
Microchip
Although it is not required, it is highly recommended that you microchip your pet prior to travel as it is the best form of identification.
Rabies Vaccination
Your pet should get vaccinated against rabies not less than 1 month but not more than 1 year prior to travel. The certificate needs to be issued by a licensed veterinarian and endorsed by the government of the exporting country.
Veterinary Health Certificate
Your pet must be issued an International Health Certificate, also known as the Certificado Zoosanitário Internacional (CZI), by a licensed veterinarian within 10 days prior to departure. This document needs to be endorsed by the USDA.  We will be able to get this for you and get the required translation.
Form XXIX
You should also complete an application for the supervision of pets also known as the Requerimento para Fiscalizacao de Animais de Companhia (Formulário XXIX). This is issued by the Brazilian Ministry of Agriculture, Livestock and Supply (Ministério da Agricultura, Pecuária e Abastecimento – MAPA). We will make sure this is filled in correctly for you.
Ticks & Tapeworm Treatment           
Wihin 15 days of departure, your dog should be treated for ticks and tapeworm.
Import Permit
An import permit is required for pets other than dogs and cats.
Sources:
United States Dept. of Agriculture: http://www.aphis.usda.gov/regulations/vs/iregs/animals/animal_brazil.shtml
Brazil Govt. Dept. of Agriculture: http://www.agricultura.gov.br/animal/animais-de-companhia/transporte-internacional
Pet Travel: http://www.pettravel.com/immigration/brazil.cfm
International Air Transport Association (IATA) Travel Centre: http://www.iatatravelcentre.com/BR-Brazil-customs-currency-airport-tax-regulations-details.htm
Anglo Info Brazil: http://brazil.angloinfo.com/moving/moving-pet-animals/
The Brazil Business: http://thebrazilbusiness.com/article/importing-animals-to-brazil