No Animals Were Harmed In Creating This Post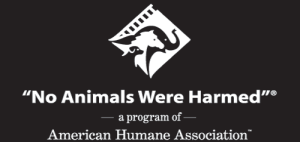 The Story Behind the "No Animals Were Harmed" ® Disclaimer
You've seen it at the end of film and TV credits:  "No animals were harmed during the making of this film."
Where does this disclaimer come from and what does it mean exactly?
It is the product of years of collaboration between the American Humane Association (AHA) and filmmakers around the world.  Starting in the 1960s, the AHA tracked as many productions as it could and came up with guidelines to endure the safety of any animals used on set.
Though it seems commonplace today, not every production receives this distinction.  It has to be earned. Filmmakers are provided with step-by-step instructions on how to earn the right to add the disclaimer to the end credits.
The AHA's Film & TV Unit, based in Los Angeles, CA, is the only official animal safety monitor allowed on production sets.  This is no easy task since extra people on set are usually not welcome, but the filmmaking community has, for the most part, been accommodating.  The Film & TV Unit has to determine if the guidelines are being followed and, if so, officially give the producers the right to use the disclaimer.  However, some productions have been known to use unauthorized versions (bad, Hollywood!).
The first official AHA disclaimer was issued to the 1972 film, "The Doberman Gang."  Just for a treat, here's the trailer.  Best quote: "They ain't in it for the biscuits!" http://www.youtube.com/watch?v=AMupA9_wLcw
Sources:
American Humane Association:  http://www.americanhumane.org/animals/programs/no-animals-were-harmed/
American Humane Film & TV Unit:  http://www.americanhumanefilmtv.org
YouTube Doberman Gang Trailer:  http://www.youtube.com/watch?v=AMupA9_wLcw
Image Credit:  http://www.americanhumane.org
– Animal Land Pet Movers – Blog – Arianna Licet Ariza