Murphy Travels By Car to Florida!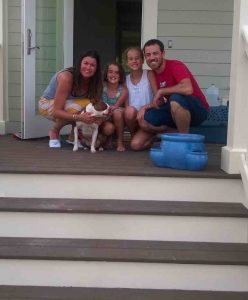 We had the most amazing experience with the relocation of our Boston Terrier Murphy. Due to current
airline restrictions, Boston Terriers are no longer able to travel as cargo on airplanes.
We were so glad to find out that there was a ground transportation option for Murphy.
Dana with Pet Movers was amazing at communicating the whole process to us and making us feel comfortable with the process.
Once Murphy was picked up, we were beyond impressed with the care he received. And the communication we received from his driver.
We had many texts & pictures throughout the day to let us know how Murph was doing, and where they were located. It was such a relief to know that our dog was safe and cared for during his travels.
We were so happy when Murphy arrived with us and lucky to have this company assist with his travels to us.
I highly recommend Pet Movers to help with any of your pets travel needs.
Thanks again!

The Bruce Family & Murphy too
August 2017