Moving Your Pets to Hawaii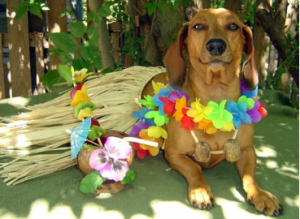 Here at Animal Land Pet Movers, we assist many families relocate their pets to Hawaii. There are several steps and each must be accomplished in a specific order. Because there is quarantine involved, we strongly recommend you consult with a professional. We are always here to help, but below is the plan:
FIRST STEP:  Microchip
All cats and dogs must be microchipped.  If the chip cannot be scanned properly upon arrival, your pet will be subject to 120 days in quarantine.
120 DAYS BEFORE ARRIVAL:  Blood Test
You must wait at least 120 days after you've received the blood test results before entering Hawaii.  Otherwise, your pet will be subject to quarantine until 120 days are completed. The blood test result needs to be greater than or equal to 0.5 IU/ml and must be done by an approved laboratory.
The day after the blood sample is received the clock begins and your it must be more than 120 days before the date your pet will arrival in Hawaii but not more than 36 months.
90 DAYS BEFORE ARRIVAL:  Vaccinations
Your pet must be vaccinated twice against rabies.  The shots need to have been administered more than 30 days apart.
After the second rabies vaccination, you must wait at least 90 days before arriving.  Be sure the last vaccination has not expired or your pet will be quarantined until the 90 days are complete.
The rabies vaccination certificates should be originals or carbon copies (no photocopies or computer-generated certificates).  They should include the vaccine names, serial numbers, booster intervals, vaccination dates and expiration dates.
Dogs should also be vaccinated against:
distemper virus
infectious hepatitis virus or canine adenovirus-2
parvovirus
parainfluenza virus
Leptospirosis
Bordetella bronchiseptica (kennel cough)
The canine coronavirus vaccination is recommended but optional.
Cats should also be vaccinated against:
panleukopenia virus (feline viral enteritis)
viral rhinotracheitis (feline herpesvirus-1)
calicivirus
Chlamydia psittaci (pneumonitis)
The feline Leukemia (Felv) vaccination is recommended but optional.
WITHIN 10 DAYS OF ARRIVAL:  Health Certificate
The veterinarian's health certificate (in English) should be done within 10 days of arrival.
The health certificate also needs to certify that your pet was treated for ticks with a product containing Fipronil (or an equivalent, but not Revolution) within 14 days of arrival.
NO LESS THAN 10 DAYS BEFORE ARRIVAL:  Pet Import Permit
You must have one import permit per pet.  It should be completed and notarized no less than 10 days before your pet arrives in Hawaii.
You can find the Dog and Cat Import Form here (Form AQS278):  http://hdoa.hawaii.gov/ai/files/2013/01/AQS-278-Nov-11a.pdf.
NO LESS THAN 10 DAYS PRIOR TO ARRIVAL:  Sending Documents to Hawaii
Send all your documents together along with payment and be sure it all arrives more than 10 days prior to arrival.
Send documents and payment to:
Animal Quarantine Station
99-951 Halawa Valley Street
Aiea, Hawaii 96701
Arrival at Airport
Important!  When planning your flight, be sure your pet lands by 3:30pm (local time) in order to arrive at the Airport Animal Quarantine Holding Facility by 4:30 p.m.   Any animal arriving after that will be held overnight until inspections are completed.
Any pet not meeting these requirements will be subject to quarantine – either the 5-Day or Less Program or the 120-Day Program, depending on how many requirements are missing.
NOTE:  Any animals pregnant more than 40 days are not allowed to enter the state of Hawaii.
Sources:
Hawaii Govt. Website:  http://hdoa.hawaii.gov/ai/aqs/animal-quarantine-information-page/
KSU Rabies Laboratory:  http://www.vet.k-state.edu/depts/dmp/service/rabies/
DOD Food Analysis and Diagnostic Laboratory:  http://www.vetlab.army.mil/tools/contacts.html
Image Credit:  http://www.bittertonic.com