How to Save Money When Traveling With Your Pets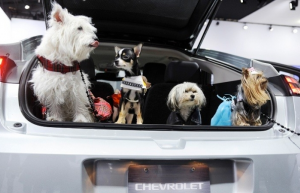 How to Save Money Road Trips with Your Pet
If you're taking your pet with you on a road trip, be it for vacation or toward a permanent relocation destination, there are quite a few ways to do it economically.
Here are three great money-saving tips for the trips:
List It and Pack It
Taking the time to list out all of the items you want to take along will save you money AND time on the road. Buy as much as you can before the trip – medication, toys, treats, blankets, leashes, water, anything else your pet needs and might want while you're on the road. Then pack it. You'll travel lighter knowing you've prepared as well as you can – less expenses and less anxiety.
Find Out Where Your Pet Can Stay For Free
If you need to stop overnight along the way, keep the following hotel chains in mind because your pet can stay at no charge:
Motel 6
La Quinta
Red Roof Inn
Kimpton Hotels
However, if your pet causes any damage, you will be held responsible. Don't leave your pet unattended in a hotel room. If you do, make sure he is secure in his crate and don't be gone for long.
Buy a Harness or Carrier
Pet harness or carrier: Just a few dollars. Ensuring your pet's safety: Priceless.
Sources:
TripsWithPets: http://www.tripswithpets.com/twp-blog/pet-friendly-travel-money-saving-tips-for-pet-road-trips
Motel 6 Pet Policy: http://www.motel6.com/promotions/pets.aspx
La Quinta Pet Policy: http://hotels.petswelcome.com/chains/la-quinta/
Red Roof Inn Pet Policy: http://www.redroof.com/local_events_specials/leisure_travel_and_special_events/pet_friendly/
Kimpton Hotels: https://www.kimptonhotels.com/services/pet-friendly.aspx