Frankfurt Airport Pet Facility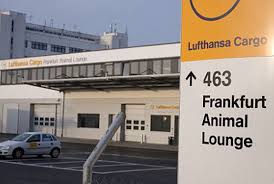 The Animal Lounge at Germany's Frankfurt Airport calls itself "the world's most advanced animal station" and it might just very well be considering all it has to offer:
Lots of space – over 40,000 square feet! (3,750 square meters)
42 large animal stalls, some about 300 square feet in size (28 square meters)
39 small animal pens
Aviaries for our fine-feathered friends
12 temperature-controlled climate chambers
Professional care for a variety of animals including dogs, cats, birds, elephants, horses and more
Round-the-clock video surveillance
If you have questions about the Animal Lounge, contact Lufthansa Cargo at (tel) +49-69-696-27406.
You can also try these 2 offices for more information:
Veterinary Border Inspection Office Frankfurt Airport
Tel: +49-69-696-46041
Fax: +49-69-696-46050
Email: poststelle.tgsh@lhl.hessen.de
Animal Protection Officer (Health Regulations)
Tel: +49-69-690-21366 or +49-69-690-74332
Email: avi-services@fraport.de
The airport also has offers The Dog Hotel with landscaped outdoor areas and even heated kennels in the winter months. You must have proof that your dog is in good health in order to be admitted.
For more information on The Dog Hotel, contact:
Tel: +49-69-690-66542
Fax: +49-69-690-59995
Email: hundepension@fraport.de.
Sources:
Frankfurt Airport Animal Lounge: http://www.frankfurt-airport.com/content/frankfurt_airport/en/business_location/cargo_hub/animal_lounge.html
Frankfurt Airport Traveling with Pets: http://www.frankfurt-airport.com/content/frankfurt_airport/en/checkin_luggage/traveling_with_animals.html