Dana Fanning – Best in The Business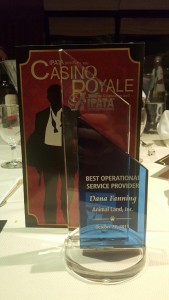 Everyone likes to say they are the "Best in The Business". I have said it often about the people who work here at Animal Land.
However today we have proof. We are proud to announce that Dana Fanning, our Senior Personal Move Counselor, has won the Best Operational Service Provider Award from the International Pet and Animal Transportation Association (IPATA).
The Best Operational Service Provider Award is awarded "for an individual that provides operational service that is consistently of an exceptional level and is an inspiration to the industry and its members. It recognizes an individual that exemplifies professionalism, empathy, compassion, efficient response, accuracy of information and customer service."
Anyone who has ever worked with Dana recognizes the above description fits her perfectly.
Congratulations Dana, you deserve it!