Curing Doggy Breath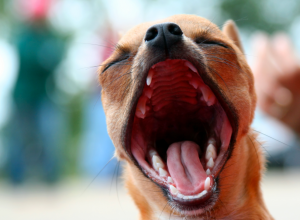 Love your dog but hate his breath? Ever think: it's so great when he licks my face but, man, could he use a mint?
Here's a great product – the Orapup brush, created by the same folks who created the tongue brush for humans.
Each brush is called a "lickie" and is water-soluble. Just rinse after each use.
They come in different flavors: Beef & Bacon, Cinnamon Chicken and Cherry Chicken.
And they're gluten-free and MSG-free.
Check out this video to show how it works: http://www.youtube.com/watch?v=E96EbDtMptU&feature=kp
Sources:
Orapup FAQ: https://www3.orapup.com/faq/
CNBC: http://www.cnbc.com/id/100502435
YouTube: http://www.youtube.com/watch?v=E96EbDtMptU&feature=kp